Curvy Women Shop Too!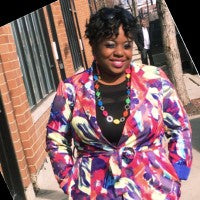 One thing us retailers have to remind ourselves while shopping at the fashion trade shows and with our vendors is that the world has more curvy women than ever before and they LOVE TO LOOK GOOD TOO! Being a retailer I despise going into other stores seeing a really small section for plus size and then what's there is picked through and it resembles bed sheets or curtains. When will these sections move pass the black, grays and browns and realize curvy women love colors and patterns too! 
LURE is all about being inclusive too all. We started off almost 7 years ago with shoes to cater to those with larger feet and then we went on to cover those that needed a size bigger than the industry standard regular size in clothing. We hand select bright vibrant colors and confidently introduce them to our plus size clientele. It only helps that after the birth of my dauther I kept and put on a few extra curves myself and I'm embracing them well while working towards a healther lifestyle.
I don't know what other retailers have up their sleeves but LURE is dedicated to bringing beautiful pieces to Yorktown to bring the curvy divas back to the mall. We are size inclusive and fashionable fly! Shop with me at LURE today!
#iShopLUREForever  
|
Posted on September 17 2019